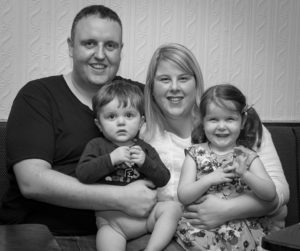 About Us
Killa Party Entertainment started life over 18 years ago on a very part time basis. Fresh out of school myself (Gary) had a keen interest in Music & making people happy. Becoming a DJ was the next logical step for me. Whilst studying I had a part time job at Tesco & what started out as weekend work whilst at University quickly changed into being a manager for a National Supermarket. I then lost my mum to cancer in 2010 & decided life is to short to do a job you don't love. After a few months travelling in Australasia and Asia on a lifestyle break I decided to give 3 months notice to pursue a long held desire to run my own business. But all that changed with only 1 month before I was due to leave my job I got a call at work telling me I was going to be a father. Myself  & Sue agreed however to continue with the original plan of leaving my job as I had enough future bookings & if I didn't do it then I likely never would have with a family to provide for.
Over the first 12 months being full time, business was good. But with a growing family (Sue was pregnant with baby number 2) I decided to diversify into other services to offer a more complete package to my clients & help the business grow. From the beginning I had an option to be like every other Wedding Vendor & compete on price with cheap products/services or source the right quality products that we would want at our own parties. I regularly commission unique pieces like our podiums, Mirrors, Stars, Kissing Booth, Whiskey & Cigar Booth & Light Up Letters. This innovation is what really keeps us excited. We also offer services most competitors know nothing about like Dry Ice 1st Dances, Snow FX & Monograms.
This structure has worked very well for me over the years & the business has grown organically from mainly word of mouth which reaffirms that what I am doing is working.
Now the business offers many different services & all can be booked individually or part of a package. The package deals offer the best value as it offers you discount for the more services you book.
Open & honest
If you are shopping around just for the cheapest price then I'm not the vendor for you. I don't just buy the cheapest products available to hire out. I select the real deal where possible UK made products that are fit for purpose & look absolutely stunning. But if you are booking multiple services you have the opportunity to save 25% on my products when spending over a certain amount. So I may be a similar price to the cheap competitors once you take into account my package deal discounts.
I am very open & honest when it comes to my pricing. Most vendor websites won't show you their prices like I have. The reason I have done this is because when I shop online I like to be able to see straight away the cost & play around with numbers to make up a wish list that would suit myself.
When comparing my prices against others not everything is as it seems. I will give you an example…
My business model is about quality & using the right products for the correct look. When booking a 6x3m Star Lit Back Drop for the head table with table runner & cake runner all Star Lit, bare in mind that mine is bigger at 7x3m & I only use the best Fibre Optic Back Drops with the best quality fabric. It actually costs me £3000 to buy it with Table Runner & Cake Runner which I then hire out for £290. Most Room Dressers, DJs, Venues etc… don't use Fibre Optic they use cheap LED Curtains shipped from China. They cost less than £800 all in & they rent them for £150 (they make a better return than me). So yes the headline is you are saving £140 but for a cheaper inferior curtain that looks nothing like mine. In effect they are different products the gap is that wide.
Remember if you book multiple items you will get 25% discount on everything over £899. So the 1st £899 is full price & everything after has 25% discount applied to it. So grab some fantastic savings.
Planning your Event can be stressful particularly choosing the right vendors to stand by your side on the day. We are here to take away the headache by offering a wide range of services that means you get to book most if not all of your services needed, but only have to deal with one supplier. With over 18 years experience me & my team deliver professional results using only quality lighting, materials & props in a world that is full of cheap tacky Chinese imitations. Rest assured great quality is at the centre of our business ethos.
If you are booking multiple services please get in touch to book your Wedding/Event Consultation where I can give you practical help & advice not just about your Entertainment but your whole Event.
Hire any of our services with savings of 25% available on anything added to baskets over £899
Weddings & Corporate work is our speciality
Booking forms are provided
Receipts will be sent after any payments are made
Certificates are available for your Venue – Public Liability Insurance & PAT Test
Everything you see on our website WE OWN! Rest assured we don't sub contract to other companies & we are not an agency.
Ordering any of my services is simple & I welcome all enquiries regardless of size. To save us both time I recommend you go to my contact page to send me some more detailed information so I can offer you the best options for your event & check the date is available for the services you require.
Wedding Lighting can really change the look and feel of any room. My most popular lighting effect is simple room uplighting which allows you to change the colour of the room to match your event theme. It adds a touch of class to beautiful rooms & lifts the mood in rooms that may need a bit of help like Working Mens Clubs where the decor is not always modern & can look dated. The Star Lit backdrops can also be used to cover full walls & are always an ideal backdrop to every head table.