Irlam Steelworks Wedding Manchester
Mark & Mel got married at Irlam Steelworks Club in August 2014 and kept it local.
The full day was a very relaxed atmosphere and the fact it was in the same town most of the guests come from which was a big plus point. No guests had to worry about taxi's and the bar was very well priced which can be a barrier at posh hotels for some guests. This led to a packed dance floor and fun had by all.
Irlam Steelworks Club have 3 function rooms but for a wedding only the main room is a viable option. On site there is also a kitchen that can be used for a small charge so catering can be done usually buffet style. Irlam Steel can cater for Weddings comfortably for upto 150 guests.
In the pictures below you can see how Mark & Mel hired from me the uplighting which worked really well. The 1st picture you can see they were bright in the day and the second picture you can see it's now dark outside and the really do make the room pop! This room benefits from 14 uplights to get the best effect. This works out at £196 for all day hire.
My recommendations for this venue is to keep it simple. By this my recommendations would be:
Uplighting (Choose what colour to make the venue walls match your theme) £14 per unit minimum of 12
Dry Ice 1st Dance
Starlit Backdrop with Starlit Head Table Skirt and Cake Starlit Table Skirt
The entertainment and lighting will set the scene and get it right you and your guests will have a party to remember for many years to come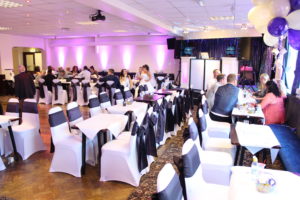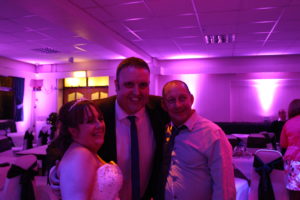 SaveSave