Wedding DJ Lowry Theatre Manchester
On the 9th August 2014 I provided my services to Clare & Andy Ivers for their special wedding at the Compass Room in The Lowry Theatre. This room is great for a number of reasons.
1) Close to Manchester. Close to the Metro Link. Close to Hotels. Close to shops and restaurants if you are staying over night.
2) The Bar is in the same room as the main event. This will always help your event be more successful. It keeps your guests close to the dance floor.
3) Like number 2 your smokers will never be far away. A balcony surrounds the glass room. It is on the 4th floor so everyone stays where they need to be.
4) Panoramic Views of Manchester/Salford at night. You will see Media City, Imperial War Museaum and Old Trafford FC  lit up for perfect photo opportunities.
A key consideration is Audio Volume. If they have any shows on downstairs in the theatre then volume is restricted until after 10pm. Also your DJ needs to plug into The Lowrys own PA System and cannot use they're personal PA. Ive done this room many times and it is never a problem.
I always find the staff helpful and friendly and the venue offers plenty of photo opportunities with the industry and bridges just outside.
This room would benefit from a Dry Ice 1st Dance which would give it the wow factor as well as my Giant LOVE Letters and some professional chair covers. When it is dressed correctly I find the room to look very impressive and I love how much natural light enters the room.
Here is what the Compass Room looks like at night
https://www.youtube.com/watch?v=JghmBfqXYqQ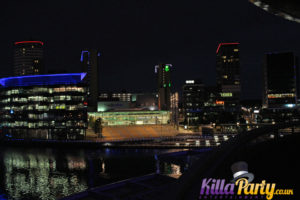 http://www.thelowry.com/conference-and-venue-hire/conference-and-private-events/compass-room/
Wedding DJ Lowry Theatre Manchester
SaveSave
SaveSave