Worsley Marriott Wedding DJ – Giant Love Letters
Worsley Marriott is situated just off the East Lancs Road in Worsley Manchester. I have DJ'd here on many occasions and it's one I always look forward to working here. The venue is ideal for weddings up to 200 people and has plenty off opportunities on site and a short distance by car if you wanted some special photo's taking on your special day. The room is clean and tidy with modern fixtures and fittings. At this reception I provided my DJ Service, Room Uplighting and Giant LED Love Letters which as you can see the room looked stunning.
My Recommendations for the Worsley Marriott are:
Uplighting (I believe this room needs this effect to uplift it)
White LED Twinkling Dance Floor or Black Twinkling Dancefloor
PhotoBooth or Mirror (The Mirrors are the new trend set to explode in 2015/16)
Monograms (Project your logo or Name/Initials onto a wall or dance floor)
Giant Love Letters with Heart (Mine are 15ft in length and nearly 6ft. Not the cheap flimsy ones)
One thing to bear in mind is the bar. When I do Weddings I usually find when the bar is not in the same room as the guests the party suffers. You get the blokes stood around the bar, smokers outside and an half empty reception room where your DJ will be trying their hardest to get the party started. It makes things much more difficult so seriously think about this before booking your venue. In terms of the Marriott I find this venue manages to pull it off having the bar in a separate room. Without blowing my own trumpet it has been when we have put in a few of our services to make the room look fab and a good quality professional DJ. The success of your night depends on your entertainment and Disco Dave for £200 ain't going to cut the mustard. Invest in the success of your evening and you will get a night to remember.
Worsley Marriott Perfect Ending
https://www.youtube.com/watch?v=R8d8dWVJ_M0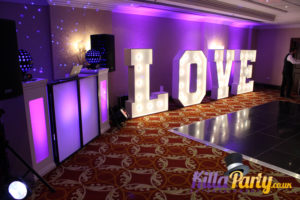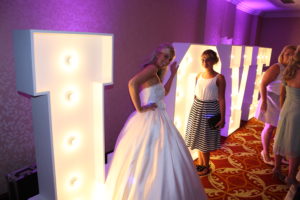 http://www.marriott.co.uk/hotels/travel/mangs-worsley-park-marriott-hotel-and-country-club/
SaveSave